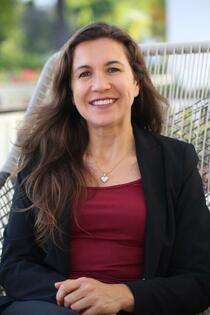 Reconnect Integrative Trauma Treatment Model (RITTM) 44 CEs - Trauma Certificate Workshop
2640 Minutes
inar has multiple parts:
View all webinar dates & times
Karol Darsa, Psy.D

Webinar Description
Reconnect Integrative Trauma Treatment Model (RITTM)

3 MODULES - Total of 44 CEs. All times are 12:00 PM - 4:00 PM EST

MODULE 1 - 12 CE Certificate - July 17, 18 & 19
MODULE 2 - 12 CE Certificate - July 24, 25 & 31
MODULE 3 - 20 CE Certificate - August, 14, 15, 16, 21, 22

Reconnect Integrative Trauma Treatment Model (RITTM)is a mind-body connection based integrative approach that treats the whole person. RITTM teaches the therapist to use an integration of the following modalities: EMDR, Brainspotting, Somatic therapies, Gestalt, Energy Psychology, and Mindfulness.
The RITTM philosophy states that trauma creates an internal disconnection. Trauma disconnects clients from their body, from their emotions, from their mind, from friends and family, from God or spirituality—ultimately from who they truly are. RITTM emphasizes stabilization before trauma processing, utilizing a three phased approach to trauma treatment: Stabilization Phase, Processing Phase, Integration Phase.
(Trainer, Dr. Darsa is a licensed psychologist, an author, creator of RITTM (Reconnect Integrative Trauma Treatment Model), and founder of Reconnect Treatment Center, in CA. She has more than 20 years of clinical and administrative experience in trauma and mental health disorders.)
Become a Certified Clinical Trauma Professional (CCTP-II)
Become Certified in Trauma Treatment! Set yourself apart from your peers and let the world know you have specialized training in the treatment of trauma by earning your Certification. This course meets the training requirements when applying for Evergreen Certifications' internationally recognized Certified Clinical Trauma Professional – Level II (CCTP-II).

Visit www.evergreencertifications.com/cctp2 for details and to start your Certification journey
AGENDA:
Lecture about Trauma and what is Trauma Treatment 4 hours
Pierre Janet's Treatment phases
Lecture about stabilization and resourcing 4 hours
Resourcing exercising and teaching of tools.
Discussion of mindfulness and exercises of mindfulness 1 hour
Lecture about trauma processing with eye-spot tools, techniques and philosophy 4 hours
Lecture of modality integration approach to trauma processing
Case studies, video demonstrations with the use of RITTM 4 hours
Continue lecture about trauma processing and eye spot tools
Student practice dyads via breakout rooms and discussion after
Teaching tools with eye movement, lecture, videos 4 hours
Students practice dyads and discussion
Somatic approach to trauma processing 4.5 hours
Dyads, practice, and discussion
Lecture on Gestalt approach to trauma processing 4 hours
Dyad, videos, and discussion
Lecture on Attachment trauma/part with case examples 4 hours
Practice dyads about part-work and attachment trauma
Demonstration videos of client examples utilizing RITTM 4 hours
Case consultation with clients from participant's practice
Continue with Case Consultations 4 hours
Dyads & role play of integration
Conclusion, wrap, up
Webinars included in this package:
Official information:
Refunds:
Registrants who are unable to attend a Thrapy Express seminar or live webinars may ask for, and will receive, a credit or refund (your choice). Refund requests will be processed within 3 business days. When an attendee knows in advance that they are unable to attend we ask that they inform Thrapy Express ahead of time by emailing
[email protected]
or by calling or texting (631) 202-1010 this allows us to free up the spot in the training in the event that a training is at or near capacity.
Disability Access: If you require ADA accommodations, please contact our office 30 days or more before the event. We cannot ensure accommodations without adequate prior notification.
Please Note: Licensing Boards change regulations often, and while we attempt to stay abreast of their most recent changes, if you have questions or concerns about this course meeting your specific board's approval, we recommend you contact your board directly to obtain a ruling.
The grievance policy for trainings provided by the NEFESH INTERNATIONAL is available
here
Satisfactory Completion:
Participants must have paid the tuition fee, logged in and out each day, attended the entire webinar, and completed an evaluation to receive a certificate (If this is a pre-recorded program, a post-test with a passing grade of 80% to receive a certificate.) Failure to log in or out will result in forfeiture of credit for the entire course. No exceptions will be made. Partial credit is not available. Certificates are available after satisfactory course completion by clicking
here
Participants will receive their certificate electronically upon completion of the webinar and course evaluation form.
There is no conflict of interest or commercial support for this program.